Suggested Donation -

$10
The songs on these CD's are sung by Sister Sponsa's handicapped in Liberia.
Our Lady of Fatima Rehab Singers


Performed by Victoria & Annie - two of Sister's disabled during their U.S. visit with Sister in 1999.



I'm Grateful


Performed by the full Our Lady of Fatima Rehab choir.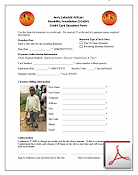 We accept check, money order and credit card. If you would like to make a credit card payment, but would rather not use the online store, just click on the thumbnail image at left to view a
downloadble
credit card form. Just print it, complete it and mail or email it to us along with your order (see "Contact Us")
Click on the photos above to purchase CD's from our store.

Copyright © 2013- - Jerry Cebulski African Disability Foundation Inc. - Shavertown, PA