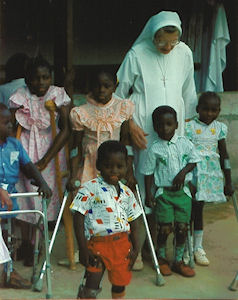 JCADF is the continuation of the work and vision of Sister Sponsa Beltran, OSF, a Bernardine Franciscan nurse missionary who spent over 30+ years of her life caring for the poor and disabled of Liberia.
In 1970, Sister Sponsa was assigned to Cape Palmas, Liberia to run a clinic for the poor and to deliver medicines in a jeep to the surrounding bush country. During this time, it was not unusual for her to be flown out to the bush in the middle of the night to treat severely ill cholera victims, only to be returned in the morning.
In the mid-1980's, Sister encountered a disabled child for the first time and quickly learned about their plight. In Liberia, the disabled are considered by many to be cursed or "witched" and as a result, are often neglected by society, even by their own families! More and more disabled children were brought to Sister who attempted to dispel this myth by explaining that the children's handicaps were not the result of witching, but were caused by polio or other medical disorders for which she would treat them to the best of her abilities. With so many disabled children being brought to her, Sister decided to create a rehabilitation center on the clinic grounds, and so, Our Lady of Fatima Rehabilitation Center was born.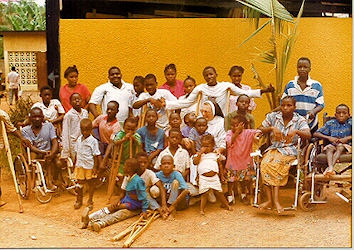 In 1989, civil war broke out in Liberia. As bombs began exploding in the surrounding areas and gunfire was heard nearby, Sister Sponsa and the disabled children she was caring for huddled in the small chapel on the premises. Meanwhile, most of the U.S. citizens in the country were quickly evacuated for safety. One day in 1994, a group of rebels pulled Sister and the children out of the chapel and stripped them all of their crutches, braces and everything but the clothes on their backs. They then proceeded to pile everyone onto a truck and exiled them to Abidjian, Ivory Coast (Cote D'ivoire). The local Bishop gave them the use of an old retreat center and several chicken coops. It was here that Sister continued the work of Our Lady of Fatima Rehab Center. As word of Sister's work with the handicapped spread, more handicapped children were brought to her for care and hundreds more attended the school Sister set up in the chicken coops.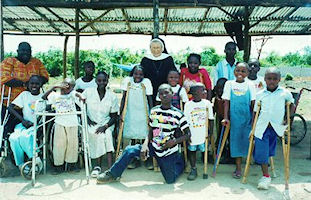 In 1998, after 4 years of exile on the Ivory Coast, Sister Sponsa decided it was finally time to bring the children back home to Liberia, now that the war had finally calmed down. She decided to move her growing "family" to the capitol, Monrovia as there were many schools and universities in the area. In late 1999, Sister made several long, difficult trips to repatriate all of the disabled children to two rented houses in the Monrovia community of Paynesville. Shortly after, Sister purchase several acres of land a short distance away and began to build the Rehab in its current location. A dormitory was built and just before Christmas 1999, Sister and the children moved into their final home. Over the years, more buildings were built including a chapel, another dormitory, prayer house, vo-tech building, clinic and a school for the poor. Sister continued her work caring for the handicapped for another eight years until she retired in late 2007, now legally blind from macular degeneration and sitting in a wheelchair due to severe spinal arthritis. Today, Sister's children, led by her oldest "son" Victor, continue the running of the Rehab and the school.
In late 2008, Sister Sponsa's family contacted another organization, in an effort to find a temporary way to continue Sister's work and vision. They were invited to join them, and with their assistance, Special Ambassadors was founded which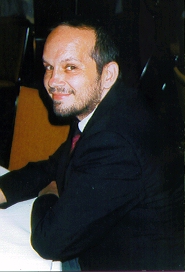 provided assistance and generosity to the residents of Our Lady of Fatima Rehab Center as well as provide care for 75+ disabled children and young adults in their homes in the bush villages and the surrounding communities.

At the beginning of 2014, which marks the 25th Anniversary of the founding of Our Lady of Fatima Rehabilitation Center, Sister Sponsa and her family felt that the handicapped should once again return home to the Beltran/Cebulski family.
As a result, the
Jerry Cebulski African Disability Foundation Inc. was formed by Sister's family and devoted supporters.


Jerry Cebulski was one of Sister Sponsa's special nephews who was killed in a terrible car accident on his way to work.
He had always been an admirer of Sister's work and had visited Sister and her children in Liberia on numerous occasions.
Today, he is interred on the Rehab grounds.
It is hoped that Sister Sponsa's vision and legacy will continue through this new organization.